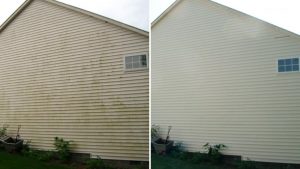 Residing in Indiana we get use to seeing green algae on our homes and black algae on our shingles, especially on the north side.
What Causes it? Unfortunately, algae occurs over time simply due to Mother Nature. It is caused by excess moisture, which can produce algae and mildew. We see it on the north side more-so due to the lack of sunlight.
How do we clean your home? We use a soft wash technique that does not require damaging pressure. We use safe chemicals with proper dilution ratios to ensure we eliminate the growth of algae and mold.
Why choose Warrum's Cleaning? We began our business 19 years ago solely providing pressure washing services. We have been trusted by many clients, both residential and  commercial. We also offer additional services to assist in beautifying your property, if you desire. Lastly, we are fully insured.
Why is removing algae and mold important? First, it is one of the lowest cost home improvement service you can complete.  Mold and mildew cause health problems, especially for children and older adults. According to the Center for Disease, they are more likely to suffer from upper respiratory problems due to exposure to algae and mold. This doesn't go to say it will cause or trigger asthma and allergies, but it can. Lastly, it improves the value of your property simply by adding curb appeal.
How often should it be complete? As stated before it occurs overtime due to Mother Nature. Therefore, it is recommended your home be clean at minimum every two years.
When should you call to get on the our cleaning schedule? I'll be honest, we have been taking several phone calls and scheduling several cleaning jobs once weather permits. It is best to contact us sooner than later. Our scheduling is based on our commercial clients and we go down the list for our residential clients who have scheduled their cleaning. You can contact us via email or phone in order to receive a free estimate.
If you feel this information is informative and beneficial we ask that you to share it with your friends and family.