When Warrum's Cleaning first launched in 2000, we spent most of our time providing pressure washing services to our clients in Pendleton, Fishers, Anderson and the surrounding areas. Today, we're a full-service residential and commercial cleaning company that's capable of offering a long list of excellent services. From junk removal and trash out services to property beautification and janitorial services, you can count on us to leave your property looking its very best.
When you reach out to Warrum's Cleaning for junk removal and trash out services, we'll eliminate any clutter that may have accumulated in your home, garage, office or other space over the years. We can conduct household decluttering, junk removals, trash outs, estate cleanouts, yard cleanups, basement cleanouts and more. Customers who need labor for hire, meanwhile, can obtain the help of our trusted staff members when moving your home or office.
Warrum's Cleaning can also help companies in need of janitorial cleaning services. Whether you need us to clean your office once a day, once a week or once a month, we can take care of vacuuming, mopping, waste disposal and more. Additionally, we can assist homeowners who need a hand with residential cleaning services as well. We'll clean your home from top to bottom while paying special attention to counter-tops, flooring, appliances, baseboards, and windows.
And of course, we haven't forgotten about the pressure washing services that first put us on the map in our area. We still specialize in performing exterior cleaning, concrete cleaning, and even roof cleaning.
Warrum's Cleaning is a locally owned and operated business that strives to maintain an A+ rating through the Better Business Bureau. We've worked with hundreds of clients and take pride in our stellar reputation and reliable service. The next time you need junk removal, janitorial services, hoarding clean up, gutter cleaning, property beautification or pressure washing services in Pendleton, Fishers, Anderson, Lapel, Edgewood, Middletown, Chesterfield, Westfield, Carmel, Noblesville, Alexandria, Daleville, Greenfield, Yorktown, Elwood, Frankton, Ingalls, Fortville, McCordsville & surrounding areas, give Warrum's Cleaning a call at 765-425-1125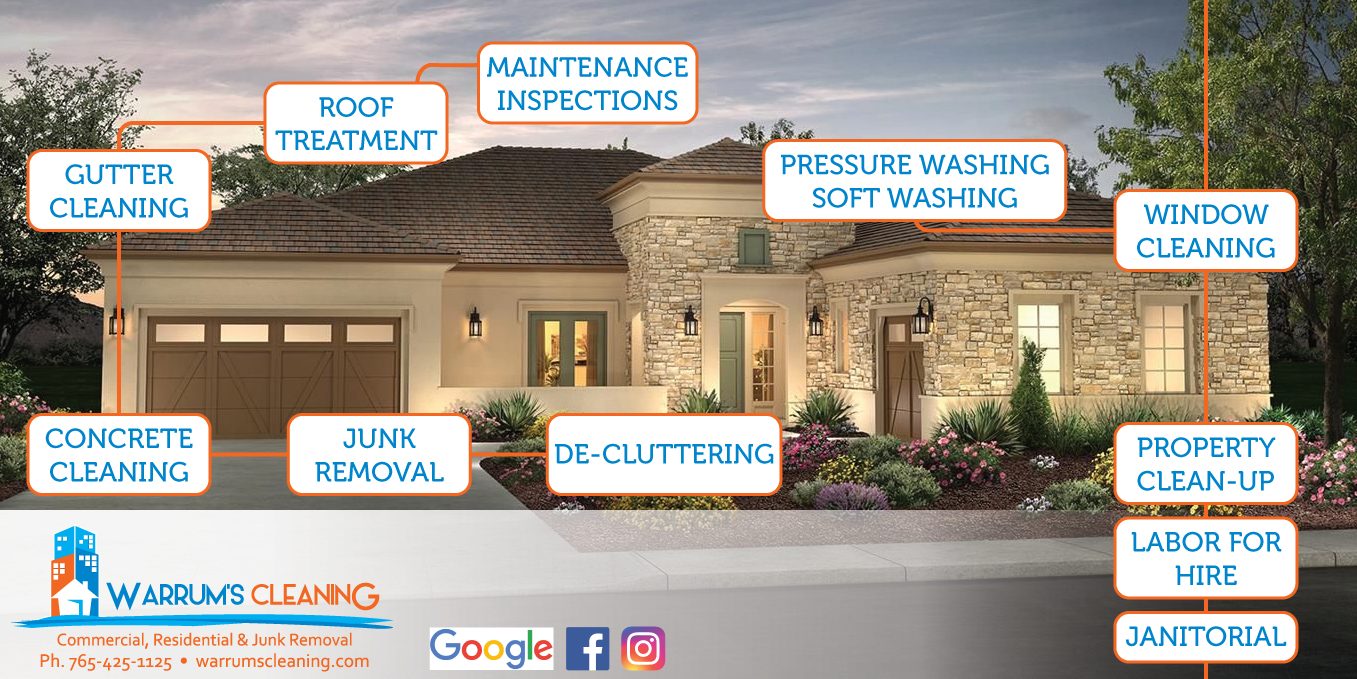 What Our Clients Are Saying:
I recently used Warrum's Power Washing
I recently used Warrum's Power Washing for cleaning of the gutters, fascia and siding at my apartment community. A total of 18 buildings.
I was THRILLED with Tim's service. He and his crew were timely, professional and above all did a GREAT job!
I would highly recommend Warrum's Cleaning to anyone that needs power washing done at a fair price!
Fred Bonfils, CAM Property Manager, Four Winds Apartments